Tuesday, February 14, 2023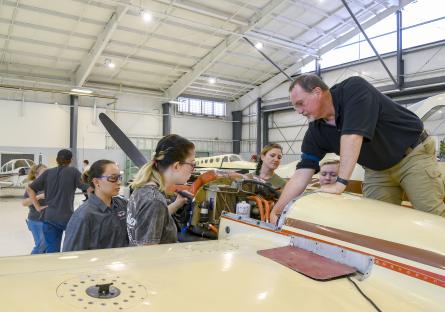 The 25th Annual Greater Southwest Aviation Maintenance Technician Symposium will be held in Arizona March 9–10, 2023, at the Phoenix-Mesa Gateway Airport in Mesa. This is a free seminar for aviation technicians to meet requirements for their Inspection Authorization (IA) renewal.
The Greater Southwest Aviation Maintenance Technician Symposium is conducted by Chandler-Gilbert Community College (CGCC) and supported by the Scottsdale Flight Standards District Office in Arizona. It is designed for everyone interested in aviation in general and aviation maintenance specifically.
The symposium targets quality educational needs and provides opportunities for networking with the southwest aviation community as well as up-to-date product improvement information. Speakers from the aviation community will provide informative, challenging, and insightful classes that
can be used for:
Renewal of Inspection Authorization (IA) ratings

Technicians to earn points for the Aviation Maintenance Technicians Award

Pilots to earn credit toward the Wings Program
The schedule for both Thursday and Friday is 7:30 a.m. to 12:00 p.m., with sign in at the IA desk beginning at 6:45 a.m. Please sign in each day you attend. Classes start at 8:00 a.m., and attendance of eight classes at the Symposium meets one year's requirements for renewal. Two years' requirements are now needed to renew your IA, and this is a renewal year.
To attend, please register at https://www.cgc.edu/aviation-symposium-registration-form.
For additional information, contact symposium@cgc.edu.