Thursday, December 17, 2020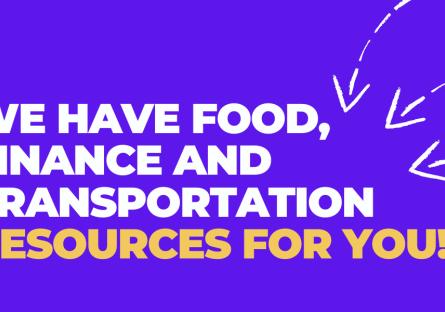 If there's one message we'd like you to remember about Chandler-Gilbert, it's that we're here to support your success. We know that your needs are much broader than the classroom. Basic needs like food, finances, transportation and housing are extremely important. If you or someone you know is struggling with these needs - we are here to help. 
Take a look at our basic needs FAQs below, crafted with the hope to guide everyone to resources that can help them succeed each and every semester. When in doubt, contact us and we will connect you with the right resource. 
Remember: You never have to worry alone.
Food needs
I'm struggling with money for food this month. Can you help? 
Absolutely! We would love to help you with our Coyote Cupboard. We have free non-perishable food, household items and school supplies for students and employees. 
You can come to Pecos or Williams campus on these days/times: On Mondays and Thursdays, 9 a.m.-12 p.m. on the Pecos Campus and Wednesdays and Fridays, 9 a.m.-12 p.m. on the Williams Campus. The cupboard will soon close for Winter Break and will reopen in January 2021. Watch our social media channels, Coyote Connect and CGC.edu website for 2021 dates. 
What's available in your cupboard?
Canned goods, pasta, snacks, toiletries, school supplies and other personal items are available.
I would like to get fresh produce. When can I come to your next produce pickup? 
We will resume our bi-monthly fresh produce distribution in the spring semester. Keep an eye on our social media accounts as well as Coyote Connect and CGC.edu/events for the upcoming dates and times.
Who can get some?
Students, employees and community members are all able to take advantage of the fresh produce distribution.
How do I get the food? 
We offer a contact-free drive through pick-up that allows you to simply pop the trunk of your car and we'll load the produce right in your car. Make sure you follow our social media accounts as well as Coyote Connect so you don't miss out.
Can I get more than just for me? I need food for my whole family. 
Yes! You can get enough food for your whole family. 
I want to help others. Can I donate? 
Yes thank you! You can drop off donations at Coyote Cupboard on both campuses - On Mondays and Thursdays, 9 a.m.-12 p.m. on the Pecos Campus and Wednesdays and Fridays, 9 a.m.-12 p.m. on the Williams Campus or by appointment on either campus by contacting Student Life at student.life@cgc.edu. Donations are accepted when the college is open.
What happens if the Coyote Cupboard is closed? I need food!
Contact the Office of Student Rights and Responsibilities at 480.857.5188 for community agencies that offer emergency food boxes and daily living necessities to homeless students, families in transition, victims and children of domestic violence. You can also find a list here.
Financial needs 
Help! I have a financial emergency and can't make ends meet. Can you help?
CGCC offers various scholarships to help support students facing severe financial hardship. The sudden loss of a job, a catastrophic event or illness, can create unmanageable burdens for anyone. For more information, please contact our Office of Student Rights & Responsibilities at yvette.strickling@cgc.edu or 480 857.5188.
What else is available to help me if I have a financial emergency?
The Maricopa Community Colleges Foundation Emergency Student Assistance fund may be able to help you! It was created to assist currently enrolled Maricopa Community College students with a short-term, unforeseen financial hardship or immediate expense that may impact their academic success.
This assistance can cover expenses for the current semester like required books, bus pass, car repair, transportation, food, gas, school supplies and utilities. To access the online application please go here. 
I can't afford my textbooks, how can I get some?
We do have options for you! First make sure you let your instructor know immediately about this so that they understand your unique challenge and can work with you while you get access to book(s). Second, the Office of Student Affairs has scholarship funding available for textbooks. Complete the intake form for processing. Contact Yvette Strickling for further assistance at yvette.strickling@cgc.edu, Program Analyst, Student Rights and Responsibilities, directly at 480-857-75188 for assistance.   
Can I get my textbooks from the library?
Since the Library is closed, there is no physical access to our textbook reserves. Students who would normally use the CGCC Library's Course Reserves to access their required textbooks can request copies of materials. Make sure to include the class, instructor name, title, and author of the book, edition, and the pages requested. EX: ENG102; E. Barnes - One World, Many Cultures 10th ed, pages 10-20, and a contact number or email address.  
There is a 72-hour turnaround. Requests are filled on a first-come, first-served basis.  
To contact the library:
 Pecos Campus: 
Email  circ@cgc.edu  or call 480-857-5102 
Williams Campus: 
Email circwil@cgc.edu or call 480-988-8611  
I need help paying for college. Can you help?
The best way to reach our CGCC Financial Aid office is via email, financialaid@cgc.edu. You can also call to leave them a voicemail at 1.855.622.2332 and they'll call you back. You can also use the Virtual Enrollment Services Team number at 480.351.2221 to text them for help.
I'm not working anymore and can't pay my electric bill. Can you help?
While we don't have resources to help you with this directly, there are programs here in the East Valley to help. Our non-profit partner AZCEND  has programs to help with utilities, rent and other needs. You can apply online or contact Elizabeth Acosta at 480.963.4321 for additional information.
I need a job! Can you help me find one?
We can! We recommend taking a few steps: 
Our Career Services Team is here to help you get back into the workforce. Visit the CGCC Career Services website. You can check out the Job Search and Preparation Tab on our website to begin your search through Maricopa Career Link or mcccd.pipelineaz.com. Career Services can also help you build a resume, and prepare you for that interview. You can schedule an appointment here. 
For immediate employment needs, check out the Arizona@Work website for openings.
Interested in Federal Work Study jobs on campus for next year that you need to both complete a 2020-21 FAFSA (fafsa.gov) and apply through Career Services at cgc.edu/fws
Are there additional resources you'd recommend? I need more help. 
We have a list of East Valley community resources ranging from basic needs to medical assistance located here.
Our MCCCD website has additional resources to help students and your families across the county.  
Transportation needs
I'm having transportation issues. Are bus passes available? 
Yes, they are available for students taking at least 12 credit hours.  Bus passes cost $32 for a 31-day pass or $115 for a semester pass. You can use the transit subsidy form to request a bus pass. 
I use a wheelchair. Can I get passes for paratransit? 
We don't have any specific passes for paratransit, but there are two great resources we recommend. You can arrange paratransit through Chandler Transit Services at 480.782.3440 or Valley Metro at 602.716.2200 or https://www.valleymetro.org/ada-paratransit. The UZURV program has adaptive transportation services, contact Jhashe Holloway at 602-748-2082 or visit https://uzurv.com/ 
Do you have passes for light rail? 
No, unfortunately we don't have light rail passes available through the college. 
Can I only use it to go to and from class or can I use the passes to go to work too?
You can use it to travel on a bus for any reason necessary.
Housing needs
Do you have any housing available?
We work with Arizona State University to provide some housing at ASU's Polytechnic Campus, located next to our Williams Campus. These are double-occupancy rooms at one of the residence halls for the academic year. Visit this page for application and details. 
How do I apply for this off-campus housing?
You'll need to apply for housing through the Maricopa Community Colleges and ASU Poly campus through this site here.This housing is first come, first served.
 
After I apply for housing, what happens next?
There are multiple steps in the process, but you should be taking 12 hours of credit or more in in-person classes per semester to be considered. There is a $175 non-refundable application fee. Because of COVID-19 restrictions, you will need to test negative/cleared from COVID-19 to move on campus. Click here for more information.
Have additional questions or need to contact someone directly regarding a basic need? Contact our Office of Student Rights & Responsibilities at yvette.strickling@cgc.edu or 480 857.5188. We are here to support your success.