Tuesday, November 30, 2021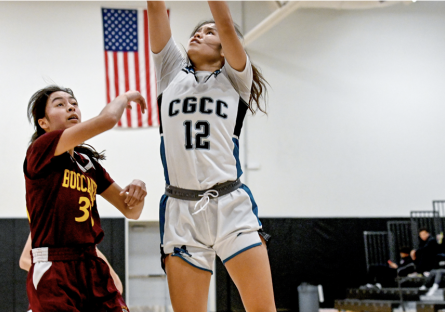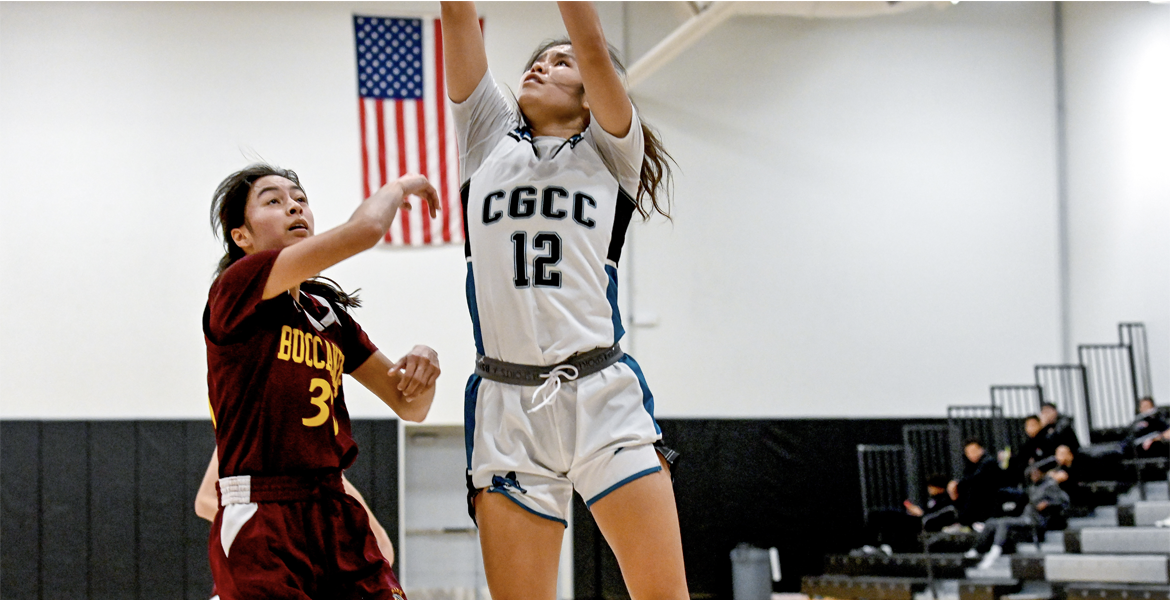 November is Native American Heritage Month. This is a time to celebrate cultures, traditions, and histories. It's also a time to recognize the contributions and accomplishments of Native people. We also prioritize an education for the general community on tribes and the hardships that they have and still face. We encourage you to listen and uplift the voices of our Native student-athletes.
In honor of Native American Heritage Month, we would like to highlight our Native American student-athletes on the women's basketball team.
The Coyotes will play Mesa Community College in the 8th Annual American Indian Recognition Basketball Game on December 1 at Mesa Community College. Tip-off for the women's game is scheduled for 5:30 p.m., followed by the men's game at 7:30 p.m. Halftime entertainment will be traditional dancing by Red Mountain Creations.
Additional upcoming games can be found at https://cgccathletics.com/sports/wbkb/2021-22/schedule.
Kalayna Johnson 
Kalayna is a member of Navajo Nation and is majoring in physical therapy.  After her time at CGCC, Kalayna wants to continue their education and also continue their amazing basketball career.
Oniah Barton Paddock
Oniah is studying dental hygiene and nursing. Her goal is to serve their community by providing valuable and needed skills. 
Aliyah Blackhat
Aliya is studying physical therapy and is an active member of the CGCC basketball community.  Aliya's goal is to get their doctorate degree and take it back to the Navajo Nation to help their peers. 
How does basketball connect you with your community?
Kalayna: "Basketball connects me to my community because it has always been in my life growing up. I have met new people, made friends, and it also helped me grow as a person."
Oniah: "Where I am from that is all a kid needs sometimes to take you far in life. If you're passionate enough about it and work as hard as you can everyday, then you'll represent where you come from and people will respect you. If you do this you'll be known for great things. It also takes people around you to be able to help you along the way. As they say, it takes a village, and I finally understand what that means and how that connects me to my community."
Aliyah: "Basketball is not just a  sport to play. Where I come from, basketball is a way of peace and happiness. Basketball brings along new friends and family. Whenever you bounce a ball, it comes right back up. It brings joy to people. Whenever you feel a type of way, It calms you down. It also brings everyone together and it makes your bond stronger with the people you're playing with."
What does it mean to you to be a student athlete?
Kalayna: "Being a student athlete can be very challenging for some people. There's a lot of late night – early morning practices, having a job, families. So, being a student athlete It's a blessing to me. I have the opportunity to go to school and play a sport that I've played since I was a little kid. I've never seen it as lucky, I've always just seen it as a blessing."'
Oniah: "Being a student athlete is a privilege no matter what school it is. I feel like you're given an opportunity that a lot of people want but I can't have or have more years to continue what you love and still get recognized for it. Not only that, but you're also earning your education for your future without having to hurt your pockets so much."
Aliya: "Being an athlete means being a student first in the classroom. Getting good grades and going to class. Athletics comes second, and doing everything you can to be your best."
What advice would you give to future student athletes?
Kalayna: "Some advice I would give is to learn how to manage your time well. There will be a lot of times you wish you did the assignment earlier, I've always struggled with that. So my main piece of advice would be to manage your time."
Oniah: "Some advice is to never lose focus on what your goal in the beginning was. Never give up, keep going, and do it for you. I know there will be a lot of times when you question 'Why am I even here?' or 'Why can't I figure it out?'  Just know that's when life's biggest blessings are right around the corner."
Aliya: "The advice I would give is to work hard and do your absolute best. The one thing is time management. Go to class every day and be on time and do your work. Go out and explore, home will always be there no matter what. Go and make a name for yourself and make your community proud."