Wednesday, November 9, 2022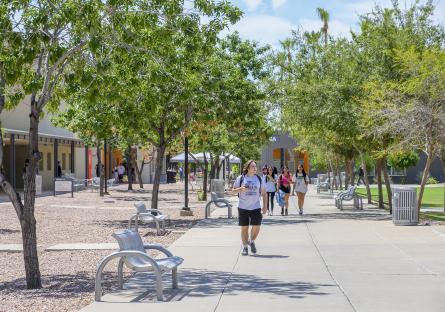 Chandler-Gilbert Community College (CGCC) is honored to be a 2022 recipient of the Department of Education's Developing Hispanic-Serving Institutions (DHSI) Title V grant. The DHSI Program provides grants to assist HSIs to expand educational opportunities for, and improve the attainment of, Hispanic students. In 2021, CGCC was named an HSI with a Hispanic student population of 27% and was awarded this prestigious grant upon its first attempt at the grant application process.
This 5-year grant, with an end date of September 2027, infuses almost 3 million dollars into the work of the college and includes 4 key positions that will be institutionalized into the work and future of CGCC.
CGCC's Title V grant is titled ¡Éxito! Podemos Imaginar Contigo (EPIC), and translates from Spanish to mean "Success! We Can Imagine With You". Its purpose is to expand educational opportunities for, and improve the academic attainment of, students—Hispanic students in particular—and to expand and enhance the academic offerings, program quality, and institutional stability of the College.
The three primary goals of the grant are as follows:
1. Increase postsecondary education access, affordability, completion, and post-enrollment success
2. Meet students social, emotional, and academic needs
3. Expand financial resources to effectively address emerging needs and opportunities.
The strategies that are laid out within the work of the grant and in pursuit of the above goals are diverse and varied to tackle challenges and barriers that disproportionately impact Hispanic students, such as financial literacy, access to affordable childcare, and building intentional experiences for students to find a sense of belonging. CGCC is a strong dual enrollment provider in the Southeast Valley and has embedded key strategies to make dual enrollment information more accessible by partnering with local high school and high school dual enrollment teachers to provide enhanced and more inclusive training.
"At CGCC, equity work has always been at the core of what we do," said Dr. Greg Peterson, President of CGCC, "and the focus and funding that comes with this kind of grant work enables us to think differently about how we serve our Hispanic students and translate that work into long term strategies that better serve all students at the college."
For more information please contact Jenna Kahl, CGCC Associate Vice President of Institutional Advancement, at jenna.kahl@cgc.edu
**This project is funded by $2,996,263 in federal funds, representing 97% of the total project. An additional $100,000, or 3% of the project, will be provided by other sources.
The Maricopa County Community College District (MCCCD) is an EEO/AA institution and an equal opportunity employer of protected veterans and individuals with disabilities. All qualified applicants will receive consideration for employment without regard to race, color, religion, sex, sexual orientation, gender identity, age, or national origin. A lack of English language skills will not be a barrier to admission and participation in the career and technical education programs of the District. The Maricopa County Community College District does not discriminate on the basis of race, color, national origin, sex, disability or age in its programs or activities. For Title IX/504 concerns, call the following number to reach the appointed coordinator: (480) 731-8499. For additional information, as well as a listing of all coordinators within the Maricopa College system, https://district.maricopa.edu/non-discrimination.