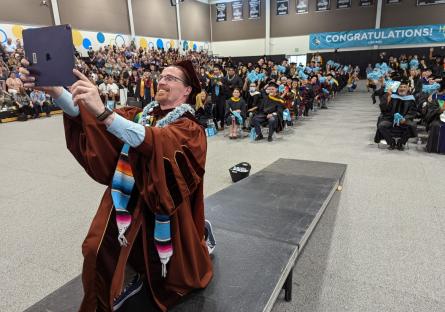 Over the past few years, daily numbered reports have typically not been welcome or pleasant news. But this week, Chandler-Gilbert Community College (CGCC) is excited to report some very positive figures—and they are certainly worth sharing.
In celebration of summer 2021, fall 2021 and spring 2022 graduates, CGCC's 2022 Commencement conferred a total of 1,320 graduates! Held May 13 on the Pecos Campus, approximately 300 students crossed the Coyote Gym stage throughout the morning and afternoon ceremonies, all elated to be commended—in person—along with their families, faculty and peers.
All in all, CGCC awarded 1,132 degrees and 373 certificates to deserving students from a variety of academic programs, some earning multiple distinctions. These students ranged from 17 to 77 years old and represented a diverse population made up of 40 percent minorities and 42 U.S. Veterans. In addition, 49 students graduated with honors, and 356 held a graduation GPA of 3.5 or higher.
"We couldn't be more proud of our Coyotes," said CGCC President Dr. Greg Peterson. "These students did not give up when times were difficult and instead achieved great success. Some are continuing their educational journey, and some are entering the workforce with new skills, but ALL have made us proud to call them Coyotes."
The recorded live streams of the two ceremonies are available on YouTube.