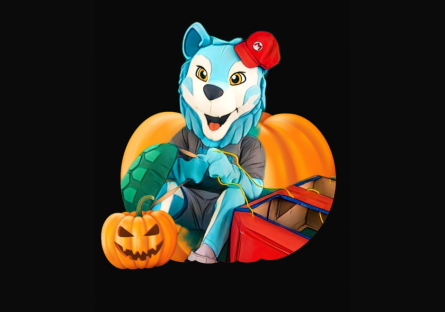 CGCC students are invited to join the Alpha Sigma Nu chapter of PTK, the CGCC Art Club, and Coyote Esports for a Halloween Cosplay Costume party.
On Saturday, October 29, 2022, from 5:30–8:30 p.m., PTK students are transforming the Student Life Center into a gamified evening of high-spirited fun, on track for multiplayer entertainment that would make Mario proud.  
Dr. Keziah Tinkle-Williams, Alpha Sigma Nu Chapter Advisor, notes, "This event will provide students the opportunity to make connections to both the college and one another through participating in the cosplay contest, playing in mini video game tournaments, and getting their faces painted while dancing to Halloween music and eating some good food!" Dr. Tinkle-Williams is a believer in the science of play, holding a Coyote Kart during the fall start of classes for New Student Welcome. "We are hoping to capitalize on the 'buzz' by keeping the same Mario World theme for this party as well," she said.
In addition to the game tournaments and Halloween festivities, there will also be a food truck with free food for the first 100 guests. Check out the full schedule, get your costume ready, and let the games begin!
FEATURED ACTIVITIES AND EVENTS:
  

5:30-6:00 pm: Cosplay Contest Sign-Up (participants will be assigned a category and number)

   5:30-8:30 pm: SuperSmash Bros Play "Stations" hosted by Coyote Esports 

   6:00-7:30 pm: Food Truck and Dining Area (with tables and seating outdoors) with free food for first 100 guests

   7:30-8:00 pm: Cosplay Contest Fashion Show hosted by PTK

Attendees will vote by ballot

Winners of Three Categories will be announced (Faculty, Staff, and Student; solo and group)

All Contest Participants will ONLY be allowed to wear masks and/or hold fake weaponry during the Cosplay Contest Fashion

Show

Weapons accompanying costume must not look authentic and must be easily recognizable as a toy representation; no

guns of any kind allowed