Friday, September 16, 2022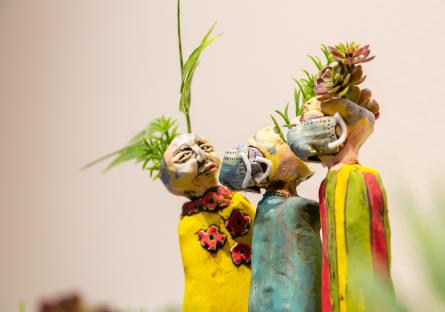 By Dr. Roja Najafi, CGCC Art History Program Faculty Lead
Figuratively Speaking: The Sculptures of Madeline Sam Hodges is on display in the Chandler-Gilbert Community College (CGCC) Library Gallery at Pecos Campus. This solo ceramic sculpture exhibition surveys Madeline Sam Hodges' explorations of the human figure and humor.
While growing up in Guaymas, Mexico, Sam was introduced to music, the richness of other cultures, and the importance of humor in life. Sam has been a member of the Ceramics Program at CGCC for more than a decade. She began her studies of ceramics and sculpture at Mesa Community College and then transferred to ASU. Sam's deftness in sculpting with clay reveals the humor in everyday life. Working in a figurative style, Sam's small sculptures retain strong references to the real world. She captures the essence of a situation beyond a corporal articulation. 
Figuratively Speaking highlights Sam's love of wordplay and sarcasm and chronicle her multicultural explorations and spiritual journey. In her sculptures, Sam explores the limits of a pedestal and pushes the boundaries of positive and negative space such that her sculptures are self-supporting, whether installed on a wall or freestanding. Utilizing humor along with clay as a sculpting material, her work eliminates the infamous stylistic battle between abstraction and figuration. Sam's wit radiates from each of her works and their titles without apology or ambiguity.
The exhibit also offers visitors an opportunity for a hands-on experience and exploration of "cast drawing" in the gallery. The exhibition will be on view through October 11, 2022. There will be a walkthrough and reception held on Wednesday, September 28, 2022, from 2:30-3:30 p.m.
If you would like to schedule additional walkthroughs for classes or teams, please email roja.najafi@cgc.edu.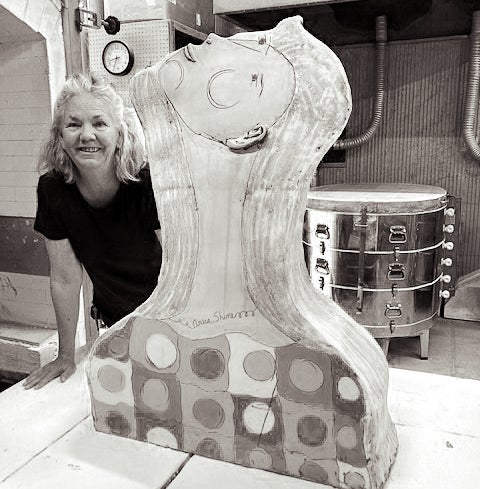 Exhibition Credits
Curator: Dr. Roja Najafi
Co-Curator: Professor Michael Ceschiat
Curatorial Assistant: Kylie Foster
In-Gallery Engagement: Professor Louis Mendoza
Exhibition Designers: Professors Michael Ceschiat and Louis Mendoza. This exhibition was made possible through the support of CGCC Libraries. All works courtesy of the artist.