Wednesday, December 7, 2022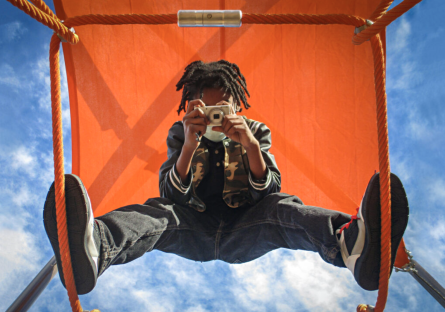 Restorative Photography Helps Local Youth
Buzzy Sullivan is a photography professor at CGCC. He works with students well beyond the classroom to use photography for more than art. One such way is through the
Kids in Focus
exhibition. Read on from Professor Sullivan about how this program helps local kids.
Kids in Focus gives kids ages 10-18 years, who come from extremely underprivileged backgrounds, a chance to see themselves and their world in a new way. These kids have experienced some form of adversity such as abuse, neglect, poverty, homelessness, death, or critical medical conditions. These traumas can cause them to disconnect from their environments, the people around them, and inevitably, themselves. They can find it difficult to trust and form strong relationships with caring, responsible adults. Their circumstances can stunt emotional growth and self-awareness.
The CGCC Photography program has been working with Kids in Focus for a few years now. Every semester our students complete Service-Learning assignments where they help further the mission of Kids in Focus. We usually install Kids in Focus exhibitions throughout the valley and work as check-in staff for Kids in Focus fundraising events. I have been mentoring with KIF for five years and now a few of our students also are mentoring at-risk youth.
Kids in Focus partners include: 
- Arizona Friends of Foster Children (providing children in foster care with awards for opportunities that are not funded by government allowances)
- Arizona Homeless Education Program (government program ensuring all children experiencing homelessness have access to public education)
- Arizona Autism Charter Schools (tuition-free, public charter school focused on the educational needs of children with autism)
- Boys & Girls Clubs of the Valley (creating equity and opportunity for youth through academic, social, and workforce opportunities)
- Chauncey Ranch (camp providing pathways to learning for underserved youth, including foster children from throughout the State of Arizona)
- Children First Leadership Academy (a school serving students living at or below the poverty line, the majority of whom are homeless)
- Esperanza Community School (serving the special needs of students that are not otherwise being met in traditional educational settings)
- Homeward Bound (creating pathways out of poverty and toward self-sufficiency for homeless families)
- Hope & A Future (a foster care organization that provides programming to current foster kids)
- OJC Foster Kids (equipping foster and at-risk youth by providing tools, resources, and positive role models to succeed and excel in every area of life)
- Phoenix Children's Hospital (Camp Rainbow serving children with cancer & blood disorders)
- Phoenix Union High School (family & community engagement supporting the academic, social, emotional, and behavioral needs of PXU students)
- Sequoia Deaf School (a school serving deaf students living at or below poverty line)
- Stepping Stones of Hope (a grief processing organization that provides programs for children and families who have suffered a death loss)
Kids in Focus plays a part in the healing process by providing kids with caring adult volunteers, who model positive methods of communication. The kids have the opportunity to channel their emotions through the expressive art of photography, to learn creative problem-solving, and build trust working with others.
The exhibit was displayed in the CGCC Student Center through the first week in December. If you didn't get a chance to see it, there are some photos below as well as another chance coming soon.
In the

spring, the next

exhibition will be up for the month of April.