Wednesday, November 16, 2022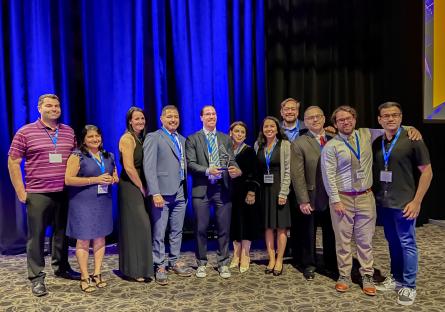 Tuesday, November 8, 2022, the Arizona Technology Council and Arizona Commerce Authority announced the winners of the 2022 Governor's Celebration of Innovation awards. Innovator of the Year for Academia was awarded to Chandler-Gilbert Community College (CGCC) and Estrella Mountain Community College (EMCC) for their Artificial Intelligence partnership with Intel.
This is the nineteenth year of the Governor's Celebration of Innovation Awards, while this year's academia distinction highlights a program that's the first of its kind for community colleges. In fact, CGCC and EMCC are the first in Arizona—and the nation—to offer an associate degree (AAS) and certificate of completion (CCL) in Artificial Intelligence and Machine Learning.
A main component of the project is the new AI incubator labs at CGCC and EMCC, designed to support Maricopa County Community College District (MCCCD) students enrolled in the program. The AI labs were paid for in part by a grant from the Intel Corporation. In addition, Intel partnered with the American Association of Community Colleges and Dell to launch the AI Incubator Network, which will select ten new community colleges to support the design and development of AI incubators. 
But as the foremost institution to launch the program, CGCC and EMCC  are already seeing students from a variety of backgrounds choosing to study Artificial Intelligence and Machine Learning. "We have students who have been working in the semiconductor industry for 30 years," according to Habib Mater, CGCC AI instructor. "We also have traditional high school students coming through. We have students who major solely in AI. And we have CS students. Once you get to a certain point in most fields, you need to do some kind of research and that requires data. And AI has a large hand in data and how we analyze it and process it in a nontraditional way."
CGCC and EMCC are very grateful to the Arizona Technology Council and Arizona Commerce Authority for the honor.
"It is such an honor to be awarded the Governor's Innovation Award for the joint accomplishment between CGCC and EMCC," said Matar. "Our crew was sitting in the crowd listening to the announcers mention the great work of ASU, NAU and UoA. I remember feeling a tinge of disappointment as our community college system was overlooked multiple times in announcements of great work being done in education. However, when it came time to announce the winner of the academic award, CGCC and EMCC came out on top as winners! It was heartwarming to know we are being recognized for the hard work we do."
Find out more about the colleges at www.cgc.edu and www.estrellamountain.edu.