Tuesday, September 6, 2022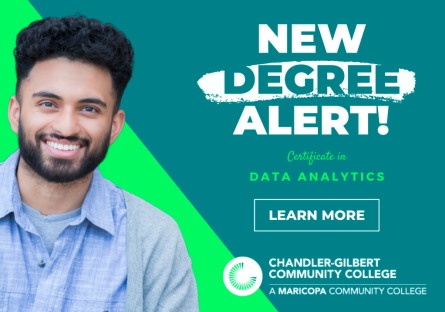 The Certificate of Completion (CCL) in Data Analytics is designed to prepare students to model, synthesize, analyze, and present large data sets for business decision making. Courses will focus on the techniques and computer software used in industry to extract data from various data sources, model and integrate that data, and then visualize this data for business decision making and intelligence gathering. This program prepares students for industry certification and is embedded (can be used to fulfill requirements) in the Associate of Applied Science (AAS) in Data Analytics available at MCCCD.
The Certificate of Completion (CCL) in Cisco Network Administration: CCNA provides training for those interested in working with network and Internet hardware. Knowledge and skills are developed to install, configure, and maintain Cisco routers and switches; configure advanced routing protocols, and Local Area Networks (LANs); troubleshoot hardware and software configurations; perform administrative tasks in a network. Taught by Cisco Certified professionals using the Cisco Networking Academy program curriculum, courses are designed to help prepare students for the Cisco Certified Network Associate (CCNA) examination. Students who complete this program may seek employment in a variety of environments. Additional Certificates of Completion (CCLs) in Cisco Network Administration and Security and Cisco Network Administration: CCNP, as well as an Associate in Applied Science (AAS) in Network and Systems Administration, are available.
Complete the form below to request more information about these exciting programs!