Wednesday, October 25, 2023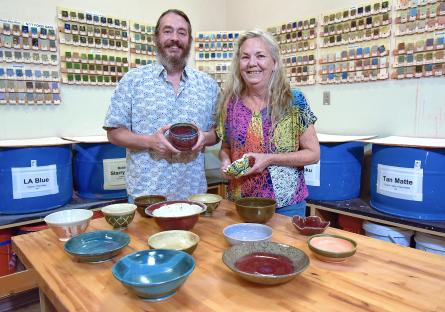 On October 17, 2023, Chandler-Gilbert Community College (CGCC) hosted the tenth Empty Bowls event in partnership with local charity AZCEND. During Empty Bowls, guests choose from hundreds of one-of-a-kind, handcrafted bowls for a donation of $10 each. For each donation, guests also received a bowl of soup to represent a typical meal served to homeless, as every $10 given funds 18 meals from AZCEND.
"It is so exciting to be celebrating our 10-year anniversary," said Trinity Donovan, AZCEND Chief Executive Officer. "The partnership has been amazing in raising awareness of AZCEND, and the quality of bowls has been excellent. We truly appreciate the volunteers who make this happen."
And there are a lot of volunteers, especially those who make the bowls. "The efforts of students, staff, and faculty (from multiple departments) in the advanced Studio Arts Ceramics course are the bowl makers," explained Michael Ceschiat, Ceramics Residential Faculty. "Our advanced CGCC ceramics students are mostly nontraditional ranging from retirees to working community members taking ceramics for a work/life balance. We have students, staff, and faculty who are very proud to have been making bowls all ten years."  
"Successfully making a bowl for donation requires developed skills and takes many hours over multiple days to achieve completion," Ceschiat continued. "Not all bowls created make it to donation. Any bowls that have cracks, glaze runs, etc. are edited for quality control and not part of the event." An estimated 1,438 hours was spent by this year's ceramics volunteers. In addition to their work, lab technician Sam Hodges helped glaze, grind, pack, and inventory every bowl — and she's done that all 10 years. 
This year, 519 beautiful bowls were created. Greg Peterson, CGCC President, recognized the work of the volunteers. "We are truly thankful that so many members of the CGCC community recognize the importance of giving back," said Peterson. "There's nothing better than when we can come together to support one another."
Since 1966, AZCEND has provided help to residents in crisis, including local college students. A study from Temple University and the Wisconsin HOPE Lab showed 36 percent of all college students say they are food insecure, with that number raising to 42 percent when separated out by community college students alone. AZCEND is working to decrease those numbers, having served 15,426 unique individuals from 5,218 households over the last fiscal year.
The Empty Bowls event does its part to support the mission. "We were able to raise just over $5,700 dollars for AZCEND," said Katie Haar, Service-Learning & Civic Engagement Program Supervisor at CGCC. "I feel so proud to be at a college that values the community and comes together to support an amazing organization like AZCEND, and I also want to thank Liberty Market, Dilly's Deli, Texas Roadhouse, and WAYMO for their donations to the event."
Find the full album of photos at https://www.facebook.com/media/set/?vanity=chandlergilbertcc&set=a.714152644078118.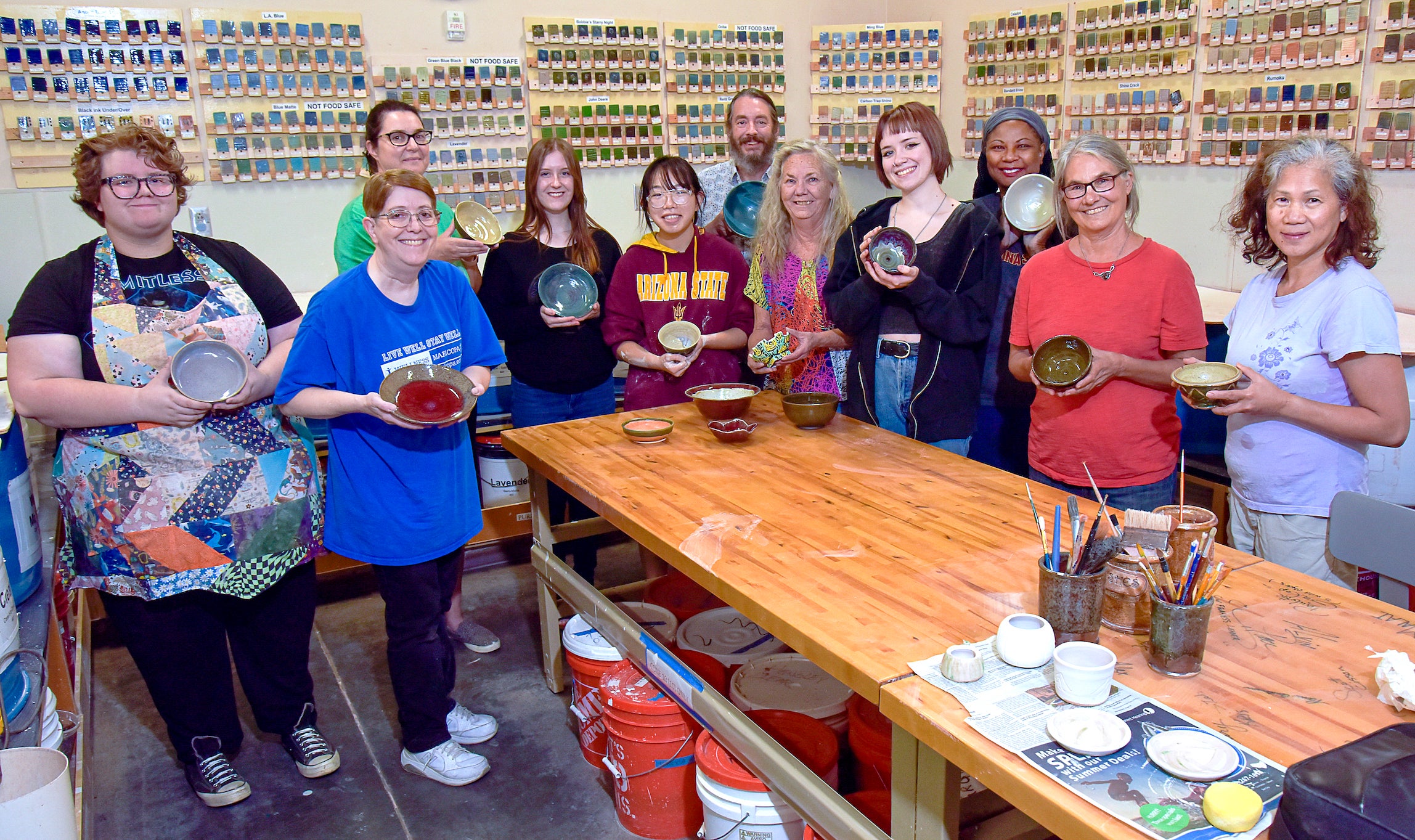 CGCC Ceramics Class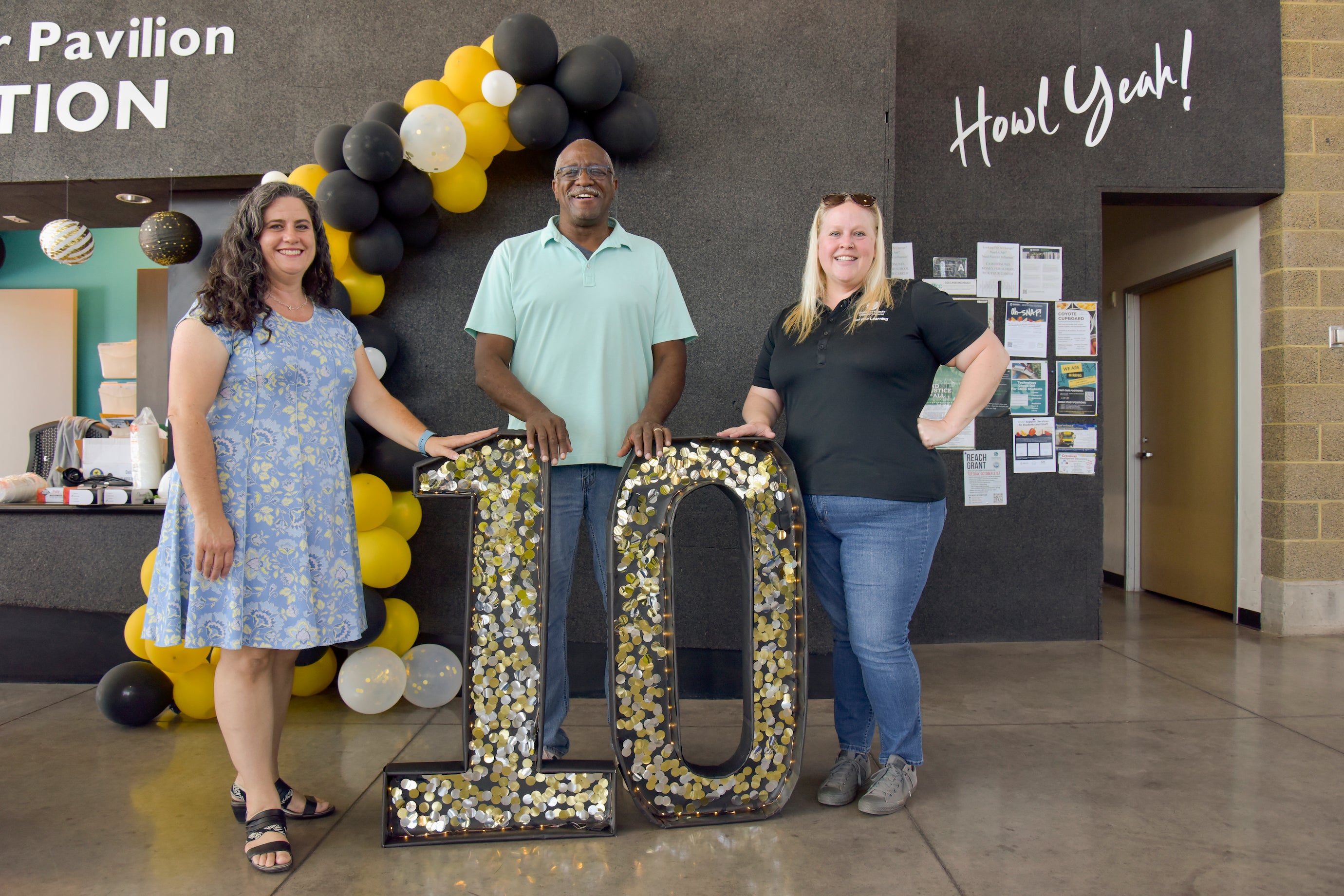 Trinity Donovan, Mike Greene, Katie Haar