Wednesday, November 15, 2023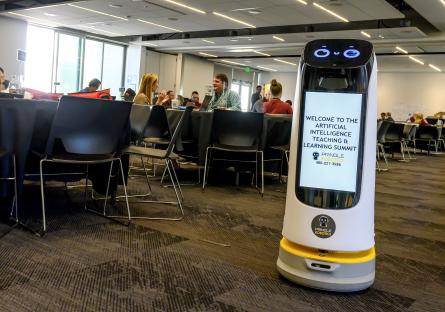 Recently, local tech corporation Intel partnered with area colleges for an Artificial Intelligence (AI) Teaching and Learning Summit in Chandler, Arizona. The Summit brought together higher education professionals and advocates who serve as faculty, administrators, industry professionals, and government liaisons in the AI ecosystem. 
Hosted by Chandler-Gilbert Community College (CGCC), Estrella Mountain Community College, and Maricopa Corporate College (all part of the Maricopa County Community Colleges District), the Summit was held at CGCC with separate learning tracks for faculty and advocates, representing educators from 36 schools across 20 states. Participants were also able to tour the Intel campus. 
Attendees discussed ways to develop a strong workforce pipeline in their institutions through innovative teaching, unique partnerships, and holistic program management.
Tom Pearson, Interim Associate Dean of Workforce Programs at CGCC, presented about the startup of the Accelerated Semiconductor Technician Quick Start Program. He discussed the multifaceted collaboration between industry and education to build the program and develop course content. "One thing that we really wanted to emphasize is the importance of industry partnerships and relationships when building a program of this nature," Pearson said. "AI and other innovative programs aren't scary or intimidating when you have a solid group working with industry to develop courses that meet workforce needs."
Attendees left with confidence and tools to create similar programs at their institutions. "I want to thank you for putting together such a great program last week during the AI Teaching and Learning Conference," said Jonnathan Resendiz, Assistant Professor and Honors Projects Liaison at Grand Rapids Community College. "It was my pleasure to meet you, your students, and all the staff that made the event possible. You have an incredible community, and I can't imagine how proud you must feel of your students' achievements. I hope that we stay in contact as we continue to work with AI." 
Summit sponsors included Intel, the Greater Phoenix Economic Council, Maricopa Community Colleges Foundation, Amazon Web Services, and the City of Chandler.