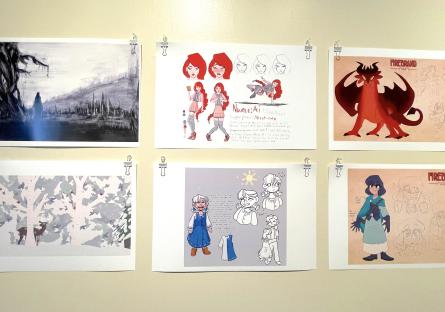 Chandler-Gilbert Community College (CGCC) Opens New Exhibit at Pecos Campus
The Spring 2023 exhibition, The Art of Storytelling: Illustration and Sequential Art at CGCC, is now open at the Pecos Library Gallery.
Storytelling through art is nothing new. Humans have long used pictures to communicate their greatest tales. The Art of Storytelling highlights the development of narratives through traditional and digital media and celebrates our students' works from the Illustration and Sequential Art Program at Chandler-Gilbert Community College. Illustration and Sequential Art is a quickly evolving and relatively new genre and it includes a variety of media such as comic books, animation, gaming, picture books, graphic novels, fantasy illustration, anime, cartooning, and more.
The Art of Storytelling features the work of students from the following classes: Penciling for Sequential Art; Inking for Sequential Art; Coloring, Toning, and Lettering for Sequential Art; Comics Creation; Publishing for the Comic Industry; Two-Dimensional Design; Computer Illustration; Color, and 2D Media Design. The exhibition also includes works by professors Jeff Pina and Val Hochberg, creators, comic book artists, and writers of multiple published works.
While visiting the exhibition, feel free to stop and explore the inking process by interpreting, finalizing, and adding depth and clarity to the pencil drawings provided in the gallery. A walkthrough and reception will be held Monday, March 27, 2023 from 4:00 - 5:00 PM. The exhibition will be on view through April 7, 2023.
Professor Louis Mendoza is the exhibit Curator, and Co-curator is Dr. Roja Najafi. The Exhibition Designers are Professors Mendoza and Michael Ceschiat. This exhibition was made possible through the support of CGCC Libraries. All works are courtesy of the artists.