Thursday, February 23, 2023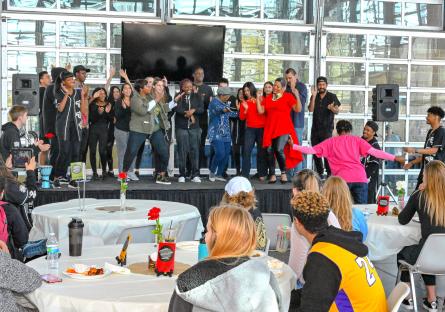 In celebration of Black History Month, Chandler-Gilbert Community College (CGCC) presents cultural and community events that honor the achievements of Black people and the importance of civil rights in America. Black history month was officially recognized in 1976 to honor the accomplishments of black people throughout American history.
CGCC is hosting a broad range of Black History Month events throughout February that feature learning, discussion, and support. Students as well as community members are invited to attend.
A drummer's "call" of rhythms from African Peoples South of the Sahara
Thursday, February 16th from 10:00 AM - 11:15 AM
Pecos Campus | PAC Lawn/Amphitheater
Join Kawambe-Omowale African Drum and Dance Theatre presenting an Open "drop-on-in" Dance Class highlighted by motivating polyrhythms and lively dance moves for all. 
 
Black History 101 Mobile Museum
Thursday, February 23rd from 10:00 AM - 3:00 PM
Williams Campus | Bridget Hall
This museum was founded by Khalid el-Hakim. It is an award-winning collection of over 7,000 original artifacts of Black memorabilia dating from the trans-Atlantic slave trade era to hip-hop culture. 
Black History Food Truck
Thursday, February 23rd from 11:00 AM - Food runs out
Williams Campus | Outside Bridget Hall
Chicken & Waffles For the People Menu
Chicken & Waffles, includes crispy chicken bites, waffles, 1 syrup, and 1 choice dipping sauce
Crispy Chicken Bites & Fries or mac and cheese with 1 choice dipping sauce
Fried chicken, fried shrimp, and fries or mac and cheese with 1 choice dipping sauce
Mixed field green salad with cucumber, tomato, black beans, croutons, peppers, and ranch/honey mustard (you can add crispy chicken bites)
ChatGPT x FNMeka: AI and the Rhetoric of Race and Representation
Thursday, February 23rd from 11:00 AM-12:00 PM
Bridget Hall, Higley Room at Williams Campus
Join BSU and PTK in a discussion on African American Images and the impact of Artificial Intelligence. RSVP at https://cgc.campuslabs.com/engage/event/8816145.
---
More events hosted by the Black Student Union are happening this month:
Tuesday, February 14th - Gratitude Walk
Join BSU on a gratitude walk around the Pecos campus.
Tuesday, February 28th - Black History Month Paint and Popcorn
Join BSU and the Art Club in the Pecos Student Pavilion to flex (or discover) your inner artist.