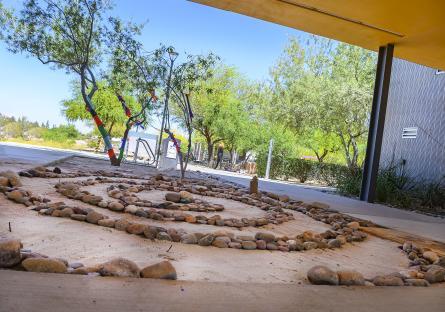 On the north end of the Pecos Campus, an assortment of CGCC students combined to create the Land+Art Project, located under the Ironwood Hall passage to the Environmental Technology Center (ETC) grounds.
This project is a collaborative, co-curricular STEAM project among students from Art History, Color, Drawing, Geological Disasters & the Environment, Introduction to Physical Geography, and Three-Dimensional Design classes at CGCC. Land+Art highlights the intercessions of art and geosciences exploring landscape, sculpture, and the environment. Land+Art was inspired by the Land Art Movement and uses the natural landscape, found objects, and natural materials available to our students to create site-specific structures, art forms, and sculptures.
Informed by artistic tendencies of the 1960s and 1970s, students from art history and geoscience classes collaborated in making a Rock Spiral (a readymade composition inspired by Robert Smithson's Spiral Jetty); students from Drawing and Color studios created a mobile exhibition of landscapes; and students from Three-Dimensional Design created earthworks throughout the ETC grounds. 
The project was designed by CGCC Visual Arts Faculty: Professor Louis Mendoza, Professor Michael Ceschiat, Dr. Roja Najafi, and Professor Mary Meyer; Geosciences Faculty: Dr. Carolina Michel and Dr. Michael Santoro; and Kendra Stanger from the ETC. Take a walk around and experience these refreshing outdoor installations.
Land+Art Project will be on view until May 7, 2023.