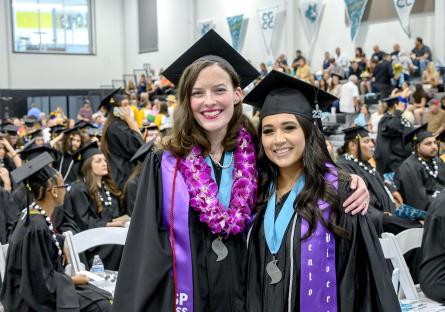 On Friday, May 12, 2023, Chandler-Gilbert Community College (CGCC) celebrated the Class of 2023. This commencement class consisted of 739 graduates earning 750 degrees.
President Greg Peterson expressed the college's pride in this class. "Impressively, the youngest graduate is 16, with 3 graduates being dual-enrolled high school students," he said, "and the oldest graduate is 55-years-young."
In addition, Dr. Peterson noted the community service completed by the graduates, with over 10,510 hours of service provided, noting that, "This is just one example of how the class of 2023 is poised to change the world." There were also 34 veterans among CGCC's graduates.
These grads also performed very well academically during their time at the college. This year, 116 graduates received scholarships, 102 are honor students, and 314 students received academic distinctions by graduating with a GPA of 3.5 or higher.
CGCC is a fast-growing member of the Maricopa Community College system with a total of nearly 14,000 credit students each year. The college's population is diverse—31 percent are first-generation college students and 39% are dual-enrolled high school students. The college is additionally proud to be recognized as a Hispanic-Serving Institution (HSI), a designation from the U.S. Department of Education that recognizes accredited, degree-granting higher education institutions with 25 percent or more total undergraduate Hispanic and Latinx student enrollment. With 27 percent Hispanic students, CGCC is one of 22 schools in Arizona to earn the HSI designation, and one of nine within the Maricopa County Community College District.
This year, CGCC also celebrated its 30th anniversary. As the school continues to grow and evolve in the East Valley, currently with four locations, its vision is "to be the preferred college in the Southeast Valley as we deliver impactful and innovative learning pathways that keep our local communities thriving."
Here's to all the graduates who have grown in their journey, too!
---
Check out the photos on our Facebook at https://www.facebook.com/media/set/?set=a.613125354180848&type=3.