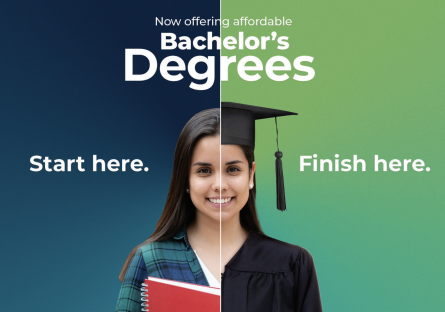 Tempe, Ariz., May 8, 2023 – The Maricopa County Community College District (MCCCD) has selected its next round of baccalaureate degrees for development in accordance with Arizona State Legislature in Senate Bill 1453 (SB 1453).
"We are hoping to expand our current selection of bachelor's degree programs to better serve incoming and returning students," said MCCCD Chancellor Dr. Steven R. Gonzales. "Data shows that 73% of those inquiring about our new bachelor's degree programs are current or former Maricopa students. We are committed to creating affordable pathways for students who want to continue within our System and earn a bachelor's degree, and our proposed program offerings for Fall 2024 and 2025 will do just that."
Pending approval from the Higher Learning Commission (HLC) and MCCCD Governing Board, Maricopa Community Colleges plans to offer additional bachelor's degrees in Fall 2024 and Fall 2025.
Fall 2024:
Bachelor of Science in Nursing (BSN), RN-BSN:

 

GateWay Community College 
Fall 2025:
Bachelor of Business Administration, Accounting:

 

Paradise Valley Community College 

Bachelor of Business Administration, Management:

 

Scottsdale Community College 
Bachelor of Science, Artificial Intelligence and Machine Learning:

 

Chandler-Gilbert Community College 
Maricopa teams collaborated to identify programs that meet the intention of the legislation. These programs will support many students MCCCD serves who would not typically transfer to a university after earning a two-year degree. Now, students in these programs will have the convenience and affordability to continue after their associate's degree with one of MCCCD's colleges.
Over the next year, MCCCD will create courses and requirements for each degree program with the intent to seek approval from the MCCCD Governing Board and the HLC, which serves as the accrediting agency.
"At Maricopa, we continue to find innovative and creative opportunities to propel our students into a good paying job and career after their educational experience," said MCCCD Governing Board President, Marie Sullivan. "Since the inception of our baccalaureate degrees, the Chancellor, District Office, and Governing Board has been committed to expanding these cost-affordable resources for students, faculty, and staff – while maintaining one of the best and most competitive educational systems in the state of Arizona," President Sullivan continued. "This announcement is proof of the dedication of our colleagues and commitment these future leaders of our communities and workforce have shown us. I am thrilled about this and hope it continues to serve as a model for community colleges around the country."
The baccalaureate degrees will be similar to other MCCCD degrees and certificates:
Designed to get students to their educational and career goals

Affordable at less than a third of university tuition

Taught by experienced, awarded, and recognized faculty

Offered in state-of-the-art facilities with small class sizes and the hands-on experiences our students have come to expect

Convenient to where our students live and offered in flexible ways. 
MCCCD looks forward to continuing to offer additional baccalaureate degrees in high-demand industry sectors in the years to come. To learn more about MCCCD's seven bachelor's degree programs that will launch this Fall, visit www.maricopa.edu/bachelors.
###
Media Contact:
Chuck Coolidge, (480) 686-2331, charles.coolidge@domail.maricopa.edu
About the Maricopa Community Colleges 
The Maricopa County Community College District includes ten individually-accredited colleges – Chandler-Gilbert, Estrella Mountain, GateWay, Glendale, Mesa, Paradise Valley, Phoenix, Rio Salado, Scottsdale, and South Mountain – and the Maricopa Corporate College, serving approximately 100,000 students with bachelor's degrees, two-year degrees, certificates, and university transfer programs. The Maricopa Community Colleges Foundation, with its doners and partners, supports the Maricopa County Community College District, its students, faculty, and staff, through scholarships, programs, equipment, and financial and human capital. Visit http://www.mcccdf.org to learn more.