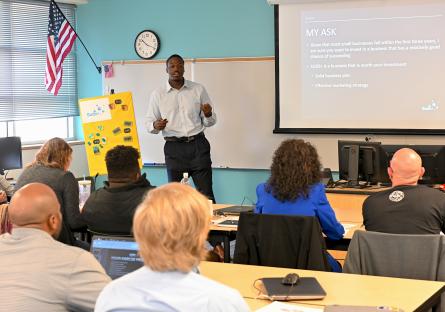 CGCC Big Pitch Competition
Are you a student starting your own business and/or wanting to launch a new business idea? Pitch Your Passion: Big Pitch Competition is happening on the CGCC Pecos campus February 3, 2023.
During the competition, students will have the opportunity to pitch their business to a panel of judges with the opportunity to win cash prizes of $250, $500, or $1,000 to help get their business going.
Participating students give a 5-minute pitch to a panel of community judges about their small business—an idea that must be able to be up and running within six months. This is a great opportunity for entrepreneurs to practice sharing business ideas for investments and find mentors, similar to Shark Tank. Last year, CGCC had approximately 12 students participate in this competition and are looking for at least 15 student participants this year. 
Ready to pitch your startup idea? Reach out to Jamie Goff at jamie.goff@cgc.edu for more information or to sign up. Registration must be received by January 18, 2023. Jamie is also available to help work on pitches to make sure they're in top form for the event.