Friday, February 24, 2023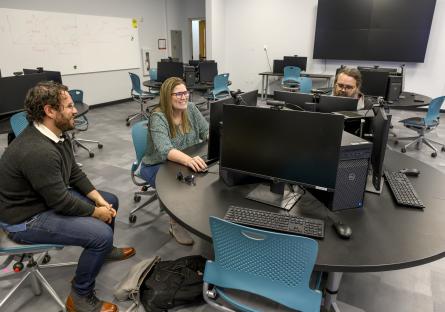 Chandler-Gilbert Community College (CGCC) recently received grant funding from the US National Science Foundation to support CGCC students who are working towards their Associate's Degree Program in Engineering and Artificial Intelligence/Machine Learning.
CGCC strives to provide students with learning and experiences which will advance students' personal and professional growth. CGCC is grateful to receive the Reaching Engineering and Artificial Intelligence Career Heights (REACH) Grant and put it towards investing in the success of its students. The REACH Grant will create meaningful impact for students currently enrolled, or planning to enroll in Associates in Science, Emphasis in Engineering, Associate of Applied Sciences in Engineering, and Associates of Applied Sciences in Artificial Intelligence and Machine Learning. The collective influence of CGCC's industry partners, CGCC professors, and the REACH Grant, will ensure student's success as they complete their program, as well as after they've completed them.
Each recipient will receive scholarships of up to $5,000 per semester, for up to four semesters. Individualized academic mentorship will be given to the successful students, and professional activities will be offered by Chandler-Gilbert Community College's industry partners.
To find out more and apply for the grant, visit cgc.edu/reach. The deadline to apply for the grant is March 31, 2023.