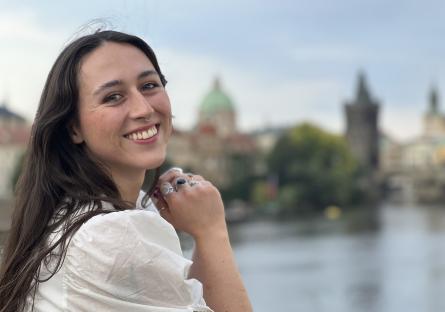 Experience one of the most beautiful cities in Europe through the Prague Study Abroad Program!
When you study abroad, you'll have fun while you learn, plus get to visit incredible places, meet new and interesting people, see amazing sights, and experience personal growth along your journey.
The Prague experience will take you to the center of Europe in the Czech Republic. Czechs like to think of their country as "the bridge between East and West." Bordering Germany, Austria, Poland, and Slovakia, the country has always been an important crossroads.
Prague is also known as the "City of 100 Spires." Its compact medieval center remains an evocative maze of cobbled lanes, ancient courtyards, mysterious passages, and churches beyond number, all watched over by a 1,000-year-old castle. Prague was one of the few European cities relatively untouched during the world wars, allowing its historic architecture to stay true to form. It is also a traditional cultural center of Europe, hosting many festivals and concerts. A three-night excursion to Berlin, Germany, is included in the program barring no travel restrictions.
The Prague Summer 2023 Schedule is as follows:
4/29 - Saturday Mandatory Orientation
6/20 - 6/28 - Pre-Departure Class Meetings
6/30 - DEPART PHOENIX
7/1 - ARRIVE IN PRAGUE
7/3 - 7/20 - Classes at Prague City University
7/21 - DEPART Prague for Phoenix
Download the Study Abroad Catalog, and plan to join the upcoming information sessions:
Mondays from 4-5:00 pm: 1/30, 2/13, 2/27, 3/20, and 3/27
WebEx Link: 24995049236 @ maricopa.webex.com
Tuesdays from 1-2:00 pm: 2/14, 2/28, and 3/28
WebEx Link: 24954290273 @ maricopa.webex.com
Ready to take the leap or simply learn more about your options? Contact our office today at 480-732-7391, email david.finley@cgc.edu, or visit https://www.cgc.edu/academics/study-abroad to learn how to apply and find scholarships.
Discover CGCC's study abroad program. You might be surprised how far you can go.