Monday, February 13, 2023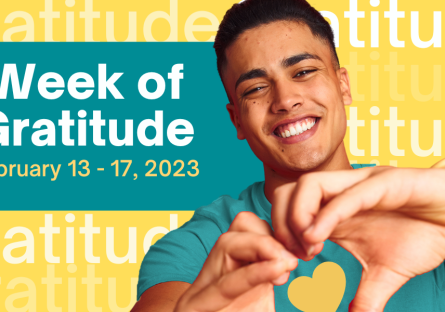 Monday 2/13 | Pecos Campus, SC Pavilion
1:00 PM | Kick-Off Gratitude Tree
Join Dr. Peterson, our college President, kick off the Week of Gratitude by decorating our Student Life tree with statements of gratitude. The Gratitude Tree is similar to Yoko Ono's Wishing Tree, exhibited by museums for collecting over a million wishes for peace from all over the world. Light refreshments will be available.
There will also be a Gratitude Tree available at Williams Campus, Bridget Hall for you to contribute to all week long. There will be light refreshments available all day Monday to kick off the tree!
—--------------------------------------------
Tuesday 2/14 | Pecos Campus, SC Pavilion
11:30 AM | Positive Psychology presentation
We often think we need to make big changes in our lives to be happy, but the smallest moments can spark gratitude and joy if we pay attention. Noticing and expressing gratitude for the good things we have is the most powerful happiness boosting activity there is. Join us to learn about the science of positive psychology and fun gratitude practices that you can use right away to enhance your well-being!
—--------------------------------------------
12:30 PM | Writing as Gratitude
Please join us for an opportunity to write letters of gratitude to first responders and
residents of local skilled nursing facilities. By communicating our positivity and thanks,
we have the power to forge meaningful and inspiring human connections.
Facilitated by: Patrick Finn
—--------------------------------------------
Wednesday 2/15 | Pecos Campus, PAC Lawn
11:00 AM | Gratitude of Movement
11am - 11:30am | Kelsy Martinez will guide you through a meditation focused on body awareness, breath, and visualization.
11:30am - 12pm | Kelsy Martinez will engage you in a yoga flow incorporating breath and movement to offer gratitude to ourselves and each other.
12pm - 12:30pm | Corey Wick will lead a high intensity, low impact workout, connecting your body, mind, and heart through movement.
—--------------------------------------------
12:30 PM | Gratitude of Earth
In this 30 minute experience, we will mindfully walk to visit some truly ancient ones around the Pecos campus. Through short reflections and rock stories, we will practice gratitude for the solid Earth and the different ways in which it enables, enriches, and supports our lives. Participants are welcome to bring a rock and/or take a rock home.
Facilitated by: Dr. Carolina Michel Londoño
—--------------------------------------------
Thursday 2/16 | Pecos Campus, ETC Garden
10:00 AM | Grow Gratitude
During this presentation, Dr. Colleen Wilkowski and her ENG 101 students will provide a guided tour of the Environmental Tech Center. They will discuss the activities they have been working on and share feedback on their experiences. Faculty who are interested in learning more about the ETC or incorporating the ETC into their classes are welcome to attend this event. Faculty are also welcomed to bring their classes to this event.
Facilitated by: Dr. Colleen Wilkowski
—--------------------------------------------
Friday 2/17 | Pecos Campus, ETC Garden
10:00 AM | Seed Starting in the ETC
For the seed starting activity in the ETC we will be focusing on gratitude for and from the earth. Being able to grow fruits and vegetables in this climate is not easy, and is a testament to ancestors' past who made this arid region a hotspot of agriculture. We will start seeds of plants that are in season and you can take them home and watch them flourish.
Facilitated by: Kendra Stanger
All week long, you can find donation boxes at Pecos Campus, Student Center Pavilion and Williams Campus, Bridget Hall. Gratitude through Service
Hygiene Drive for DSquared
Donation boxes will be sat out all week long for people to contribute at both campuses.
Contact: Ashley Bouknight, 480-732-7069
If you have any questions on how to participate as an individual (student or employee) or as a group (class or department) please reach out to Christina.Contreras@cgc.edu