Student Highlights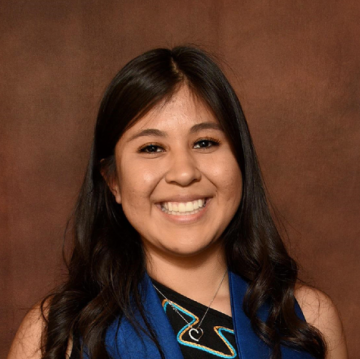 Emily Sepulveda
Degree/Area of Study: General Science
Emily started earning college credits by participating in Hoop of Learning and chose to continue at Chandler-Gilbert with the goal of becoming a dentist.
---
What are your next steps after CGCC?: I plan to transfer to a university to complete my bachelor's degree.
What is your ultimate career goal?: My ultimate career goal is to become a dentist.
What makes your story unique?: I grew up on the reservation and moved to the Valley to have better schooling opportunities. Many of my peers end up staying on the reservation, and that's not what my parents wanted for me. I wanted to create a better life for myself so I can encourage kids at home on the reservation that it is possible to move forward with your life without forgetting who you are.
What campus resources do you utilize at CGCC?: I have used the Library to do homework or work on group projects. I also use tutoring services a lot in my math and science classes.
What surprised you the most when you arrived at CGCC?: I was most surprised by the overwhelming amount of support I received. It was like everyone wanted you to pass and do better. No one wanted to see anyone fail.
How did CGCC faculty and staff support your success?: They always encouraged me to use all the resources that were available. They also checked up on me to ensure that I was doing well and that I didn't need any help.
How did you choose your major/program of study?: I wanted a general field of study making it easier in case I chose a different career path.
Why did you choose CGCC?: It was affordable yet reliable because I am getting the same education as my peers at the university at an affordable price.
What would you tell a prospective student considering their college choice?: This is a great and affordable way to start college! It's definitely worth it. There are so many scholarship opportunities out there to help you pay for it, too.