For Employers
Looking to connect with Chandler-Gilbert Community College students to fill paid positions and complete internships? We can help!
---
Maricopa Community College's Pipeline AZ
Register as an employer on Maricopa Pipeline AZ, where you can:
Post jobs and internships
Review candidate resumes
Get started today at mcccd.pipelineaz.com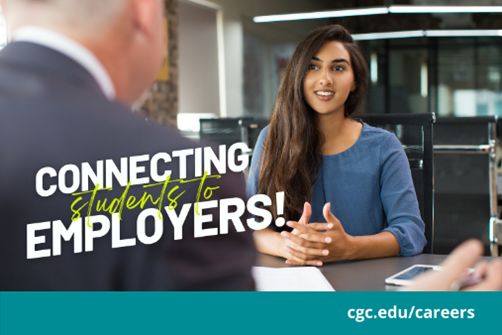 Maricopa Community Colleges Pipeline AZ is an integrated platform for students to discover, explore, and build career ambitions as well as match to work-based experiences and jobs based on their skills and interests.
---
Participate in Career Fairs & Events
Are you interested in more than just posting positions for students by participating in the learning process? We have several opportunities for employers to get involved and connect with students, such as:
Career Fairs
Professional Panels
Classroom Guest Speakers
Club Events
Highlight an opportunity (position, internship, event)
Complete this form to tell us about your field/area of expertise and the type of event(s) you are interested in. Once we receive your form, you will be added to a list of professionals to be contacted when opportunities arise.
---
Connect with Career Services
NOTE: We receive several requests for tabling on campus. Tabling is handled by the CGCC facilities and rental department. Please see the facilities webpage for pricing and scheduling.